Peintre du désir. Les « petites femmes » antillaises de Maurice Millière dans « le Gai Paris
Painter and lithographer, Maurice Millière specializes from 1917 in the illustration of charm. The representation of his female dolls is very successful in France and the United States. Based in the Montmartre district, his pioneering style of "pin up" is nourished by the light atmosphere of Parisian cabarets where the racial mix of naked bodies is fantasized by avant-garde artists. After a stay in artist residency in Guadeloupe and Martinique, the painter specializes in West Indian subjects while maintaining his erotic and sensual aesthetic. His portraits of West Indian women, objects of contemplation, but also of desire and consumption, such as La Martiniquaise au tray de bananas (1930), Un beau fruit des Antilles (1930) were hailed by critics, because they respond subtly with their graphics with the worldly and elegant dimension of assimilationist West Indian iconography while keeping the codes of erotic drawing. The artist likes to navigate between the two imaginations of the West Indies through a game of contradiction, superposition and metamorphosis of images. The first imaginary conveyed conforms to the aesthetics of the West Indian colonial school of fine arts, shaped by the Colonial Society of French Artists. Its Martiniquaises and Guadeloupeans, like " Queens of the Antilles", " pearls", " emeralds", embody the beauty and elegance of the women of the "old colonies" with their traditional costume, the delicacy of their features, their port of haughty head, their impressive jewelry, their mixed sophistication. But by modifying their looks and their attitudes, the artist also appeared in the interwar period as the master of eroticism, when these same little women, who had become objects of white fantasy, illustrated charm magazines with their shoulders or bare chest and a smile inviting to lustful reverie. Under cover of levity and sensuality, Millière's stereotypical vision of little women fuels gender and racial clichés at the very moment when French society glorifies the benefits of colonization while tirelessly questioning women's right to vote.
Peintre et lithographe, Maurice Millière se spécialise à partir de 1917 dans l'illustration de charme . La représentation de ses femmes-poupées connaît un grand succès en France et aux États-Unis. Installé dans le quartier de Montmartre, son style précurseur de la « de pin up » est nourri par l'ambiance légère des cabarets parisiens où la mixité raciale des corps dénudés est fantasmée par les artistes de l'avant-garde. Après un séjour en résidence d'artistes en Guadeloupe et en Martinique, le peintre se spécialise dans les sujets antillais tout en conservant son esthétique érotique et sensuelle. Ses portraits d'Antillaises, objets de contemplation, mais aussi de désir et de consommation, tels que la Martiniquaise au tray de bananes (1930), Un beau fruit des Antilles (1930) sont salués par la critique, car ils répondent subtilement par leur graphisme à la dimension mondaine et élégante de l'iconographie antillaise assimilationniste tout en gardant les codes du dessin érotique. L'artiste se plaît à naviguer entre les deux imaginaires des Antilles à travers un jeu de contradiction, de superposition et de métamorphose des images. Le premier imaginaire véhiculé est conforme à l'esthétique de l'école coloniale antillaise des beaux-arts, façonné par la Société coloniale des Artistes français. Ses Martiniquaises et Guadeloupéennes, telles des « Reines des Antilles  », des « perles », des « émeraudes », incarnent la beauté et l'élégance des femmes des « vieilles colonies » avec leur costume traditionnel, la finesse de leurs traits, leur port de tête altier, leur bijouterie impressionnante, leur sophistication métissée. Mais en modifiant leurs regards et leurs attitudes, l'artiste apparaît aussi dans l'entre-deux-guerres comme le maître de l'érotisme, lorsque ces mêmes petites femmes, devenues objets de fantasme blanc, illustrent les magazines de charme avec les épaules ou la poitrine dénudée et un sourire invitant à la rêverie lubrique. Sous couvert de légèreté et de sensualité, la vision stéréotypée des petites femmes de Millière alimente les clichés de genre et raciaux au moment même où la société française glorifie les bienfaits de la colonisation tout en s'interrogeant inlassablement sur le droit de vote des femmes.
Fichier principal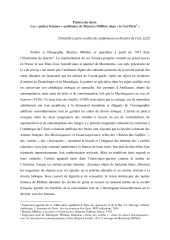 Article. Maurice Millière, peintre du désir. Christelle Lozère.pdf (519.41 Ko)
Télécharger le fichier
Origin : Files produced by the author(s)