Mode de vie d'une population céramique ancienne de la côte Caraïbe du Nicaragua : les Vertébrés Tétrapodes de l'amas coquillier 4 (KH4) du site Karoline, Kukra-Hill
Localizado en la costa Caribe Nicaragüense (Comuna de Kukra-Hill, Región Autónoma del Atlántico Sur), el sitio Karoline, fechado entre 550/350 aC y 240/380 dC, excavado en varias ocasiones por un equipo de la UNAN, la UAB y el CSIC durante los últimos años, es un conjunto complejo de por lo menos trece concheros estratificados que rodean una plataforma central "vacía". Uno de ellos, KH4, ha sido objeto de una excavación extensiva entre 2002 y 2003 y, en 2008, de una trinchera de más de un metro de profundidad. Ésta ha puesto en evidencia la presencia de tres niveles de ocupación. En KH4 se encontraron estructuras de habitación y de combustión, así como un gran número de restos cerámicos, líticos, de conchas y de vertebrados. El análisis zooarqueológico de la fauna tetrápoda obtenida en la trinchera evidencia la importancia no solo de las relaciones existentes entre los grupos humanos y la fauna tetrápoda de la región durante los periodos estudiados, sino la relevancia de las variaciones ocurridas en el tiempo en los comportamientos de subsistencia. Tres conclusiones principales se desprenden de esta investigación: 1. El espectro de fauna tetrápoda de la muestra indica la presencia de un manejo estacional de los recursos. 2. El aumento de los valores del NR, del NMI y del número de taxones asociados a nichos ecológicos ligados al agua dulce en los periodos más recientes, revelan un aumento en la explotación de recursos dulceacuícolas en el tiempo. 3. El número de ecosistemas explotados, la riqueza y la diversidad de la muestra permiten concluir que los grupos humanos de Karoline tenían una economía de subsistencia generalista y oportunista. Si bien estas poblaciones precolombinas son continentales, han adoptado un modo de vida muy similar al de las poblaciones cerámicas insulares del Caribe que vivieron en la misma época.
Placed on the Caribbean Coast of Nicaragua (Kukra-Hill, RAAS), the Karoline site, dated between 550/350 b.c .and 240/380 a.c. has been excavated in different opportunities during the past few years by a team of the UNAN, the UAB and the CSIC. The site is a complex group of thirteen stratified shellmiddens that surrounds an empty central platform; one of these shellmiddens, KH4, has been the object of an extensive excavation in 2002-2003 and, of a trench in 2008. This one has brought to light at least three different levels of occupation. In KH4, habitat structures, hearths, and many rests of ceramics, lithics, shells and vertebrates have been found. The archaeozoological analysis of the tetrapod fauna obtained from the trench has revealed not only the importance of the existent relationships among the human groups and the tetrapod fauna of the region during the referred periods, but the relevance of the experienced variations through the time in the subsistence behaviors. Three main conclusions may be issued from this research: 1. The spectrum of the tetrapod fauna proceeding from the studied sample shows a seasonalmanagement of the resources. 2. The augmentation of the NR and the MNI values, as well as the number of taxa associated to freshwater environments during the most recent periods testify of an increased exploitation of this kind of resources during the time. 3. The great number of exploited ecosystems, the richness and the diversity of the sample allow to conclude that the human groups from Karoline had a generalist and opportunistic subsistence economy. Even though the continental character of these pre-Columbian populations, their way of life is very similar to the one of the insular pottery populations of the Caribbean that lived in the same period.
Localisé sur la côte Caraïbe du Nicaragua (commune de Kukra-Hill, Région Autonome de l'Atlantique Sud), le site Karoline, daté entre 550/350 av. J.-C. et 240/380 ap. J.-C., fouillé à plusieurs reprises par une équipe de l'UNAN, l'UAB et le CSIC au cours de ces dernières années, est un ensemble d'amas coquillier complexe et stratifié. Entourant une plateforme centrale «vide», treize amas coquilliers stratifiés ont été localisés. L'un d'entre eux, l'amas KH4 a fait l'objet d'une fouille extensive entre 2002 et 2003 et puis, en 2008, d'une tranchée de plus d'un mètre de profondeur. Cette dernière a révélé au moins trois niveaux d'occupation. KH4 a livré des structures d'habitation et de combustion, ainsi que de nombreux restes céramiques, lithiques, coquilliers et vertébrés. L'analyse archéozoologique de la faune tétrapode issue de la tranchée met en évidence non seulement l'importance des rapports entre les groupes humains et la faune tétrapode de la région pendant les périodes étudiées, mais aussi, celle des variations qui ont eu lieu au cours du temps dans les comportements de subsistance. Trois conclusions principales se dégagent de cette recherche: 1. Le spectre de la faune tétrapode issu de l'échantillon étudié, indique la présence d'une gestion saisonnière des ressources. 2. L'accroissement des valeurs du NR, du NMI et du nombre de taxons associés aux niches écologiques liées à l'eau douce, dans les périodes les plus récentes, témoignent d'une augmentation dans l'exploitation des ressources dulçaquicoles au cours du temps. 3. Le grand nombre d'écosystèmes exploités, la richesse et la diversité de l'assemblage permettent de conclure que les groupes humains de Karoline avaient une économie de subsistance généraliste et opportuniste. Ces populations précolombiennes, bien que continentales, ont donc adopté un mode de vie très similaire à celui des populations céramiques insulaires de la Caraïbe datées de la même période.
Fichier principal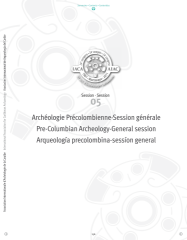 P14_Zorro&_KH4_2014_AIAC.pdf (5.5 Mo)
Télécharger le fichier
Origin : Explicit agreement for this submission