Der Serpentinitabau in Cahus (Lot) : der Ursprung der in lokalen "Marmor" bearbeiteten Skulpturen der Abtei Saint-Géraud von Aurillac (Anfang 12. Jh.)
The Serpentine Quarries of Cahus (Lot) : at the Origins of the "marble" Sculptures in the Saint-Géraud Abbey of Aurillac (beginning of the 12th century)
Los canteras de serpentina de Cahus (Lot) : de dónde vienen ciertos elementos esculpidos en "mármol" de la abadía Saint-Géraud de Aurillac (principios del siglo XII).
Les carrières de serpentine de Cahus (Lot) : origine des éléments sculptés en « marbre » de l'abbaye Saint-Géraud d'Aurillac (début du XIIe siècle)
Lange galt das Serpentingestein als Marmor. Man findet Skulpturen aus diesem Material in mehreren romanischen Bauten des Zentralmassivs. Die Abteien von Aurillac (Cantal) und in Conques (Aveyron) haben zum Beispiel zwei Brunnenbecken aus diesem Gestein. Lange vermutete man den Steinbruch Puech de Voll in der Gemeinde Firmi im Aveyron als Herkunft. Bei genauerem Betrachten unterscheidet sich jedoch der Serpentinit-Marmor aus Aurillac und Conques. Viele andere Vorkommen zwischen den beiden Abteien sind heute in Vergessenheit geraten wie etwa das von Cahus (Lot) unweit von Aurillac, das im Schatten der Steinbrüche im Aveyron stand. Von hier stammt aller Wahrscheinlichkeit nach das Material für den Bau der Abtei in Aurillac am Anfang des 12. Jh. Dieses Vorkommen liegt in der Nähe der Abtei und im gleichen Tal des Flusses Cère, was den Transport erheblich eileichtert hätte. Zudem gehört dieses Gebiet zum Einflussgebiets des Abts von Saint-Géraud. Mans muss deshalb davon ausgehen, das der "Marmor" in Aurillac von dorther stammt.
Serpentine, a rock that has long been perceived as a "marble", was used for the sculpture of several Romanesque buildings in the Massif Central. The abbeys of Aurillac (Cantal) and Conques (Aveyron) both have fountain basins made of this mineral. The origin of the rock given is traditionally the same : that of Puech de Voll, in the commune of Firmi (Aveyron). Nevertheless, differences between the serpentinites from Aurillac and Conques appear and the idea of a common quarry between Aurillac and Conques should be questioned. Many forgotten veins exist between the two monasteries. Closer to Aurillac, the serpentine of Cahus (Lot), somewhat overshadowed by its Rouergate neighbor, has a strong probability of being the quarry that supplied the Aurillac site at the beginning of the 12th century. A short distance, a common belonging to the Cère valley, an easy route that allows for equally easy transport and a geographical area included in the political zone of the Saint-Géraud abbey are all the arguments that plead in favor of a Cahusian origin of the Aurillac "marme".
La serpentina, roca que sa ha considerado durante mucho tiempo como "mármol", ha servido par las esculturas de varios edificios románicos del Massif Central. Las abadías de Aurillac (Cantal) y de Conques (Aveyron) tienen ambas pilas de fuentes de ese mismo mineral. Se suele atribuir un mismo origen a la roca: el de Puech de Voll, en el pueblo de Firmi (Aveyron). No obstante se notan diferencias entre las serpentinitas de Aurillac y de Conques y se puede poner en tela de juicio el que salgan de una misma cantera. Existen muchos filones olvidados entre los dos monasterios. Más próxima de Aurillac, la serpentina de Cahus (Lot), menoscabada por su vecina de Rouergue, probablemente sea la cantera que ha abastecido las obras de Aurillac a principios del siglo XII. Una distancia reducida, la ubicación común en el valle de Cère, un trayecto sencillo que permite un transporte también fácil y el estar en el ámbito de la abadía Saint-Géraud son otros tantos argumentos a favor de un origen "cahusiano" del "marme" de Aurillac.
La serpentine, roche ayant longtemps été perçue comme un « marbre », est utilisée pour la sculpture de plusieurs édifices romans du Massif Central. Les abbayes d'Aurillac (Cantal) et de Conques (Aveyron) possèdent toutes deux des bassins de fontaines réalisés dans ce minéral. L'origine de la roche donnée est traditionnellement la même : celle du Puech de Voll, sur la commune de Firmi (Aveyron). Néanmoins des différences entre les serpentinites aurillacoise et conquoise apparaissent et il convient de remettre en cause l'idée d'une carrière commune entre Aurillac et Conques. Bien des filons oubliés existent entre les deux monastères. Plus proche d'Aurillac, la serpentine de Cahus (Lot), quelque peu occultée par sa voisine rouergate, a de fortes probabilités d'être la carrière ayant approvisionné le chantier aurillacois du début du XIIe siècle. Une distance réduite, une appartenance commune à la vallée de la Cère, un trajet simple qui permet un transport tout aussi aisé et une aire géographique incluse dans la politique de l'abbaye Saint-Géraud sont autant d'arguments qui plaident en faveur d'une origine cahusienne du « marme » aurillacois.
Fichier principal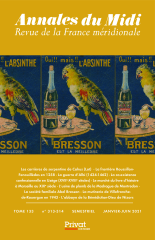 Chardonnet Sylvain Les carrières de serpentine de Cahus 2021.pdf (2.88 Mo)
Télécharger le fichier
Origin : Explicit agreement for this submission